Heart Events
One of the requirements you need to complete before you can get married is to see the candidate's four heart events. These events will become available as you raise your friendship with the marriage candidate. You will see a heart event when the person has a black heart color, and then again when you reach the purple, blue, and yellow heart colors; Emiko is the only candidate that doesn't have a true black heart event.
You can see the events if the person is at the required heart color or higher than the required color for the event; you can see a yellow heart event even if the person has a red heart color. The events must be viewed in sequential order though. The black event must be viewed first, then the purple event, followed by the blue event, and finally the yellow event.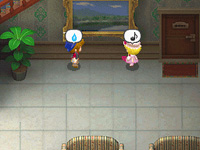 During a heart event, you will learn more about the characters who are involved in the event. After hearing the story you will be given a choice on how to respond. If you choose an answer that is positive, then you will earn friendship points with those involved in the event. If you choose a negative answer, then you will lose friendship points. If you do answer negatively, it doesn't mean that you can no longer marry that person. You simply have to give gifts to increase the person's friendship points again.
Each heart event can only be triggered one time. You can't re-do a heart event unless you reload to the last time you saved your game.
List of Heart Events